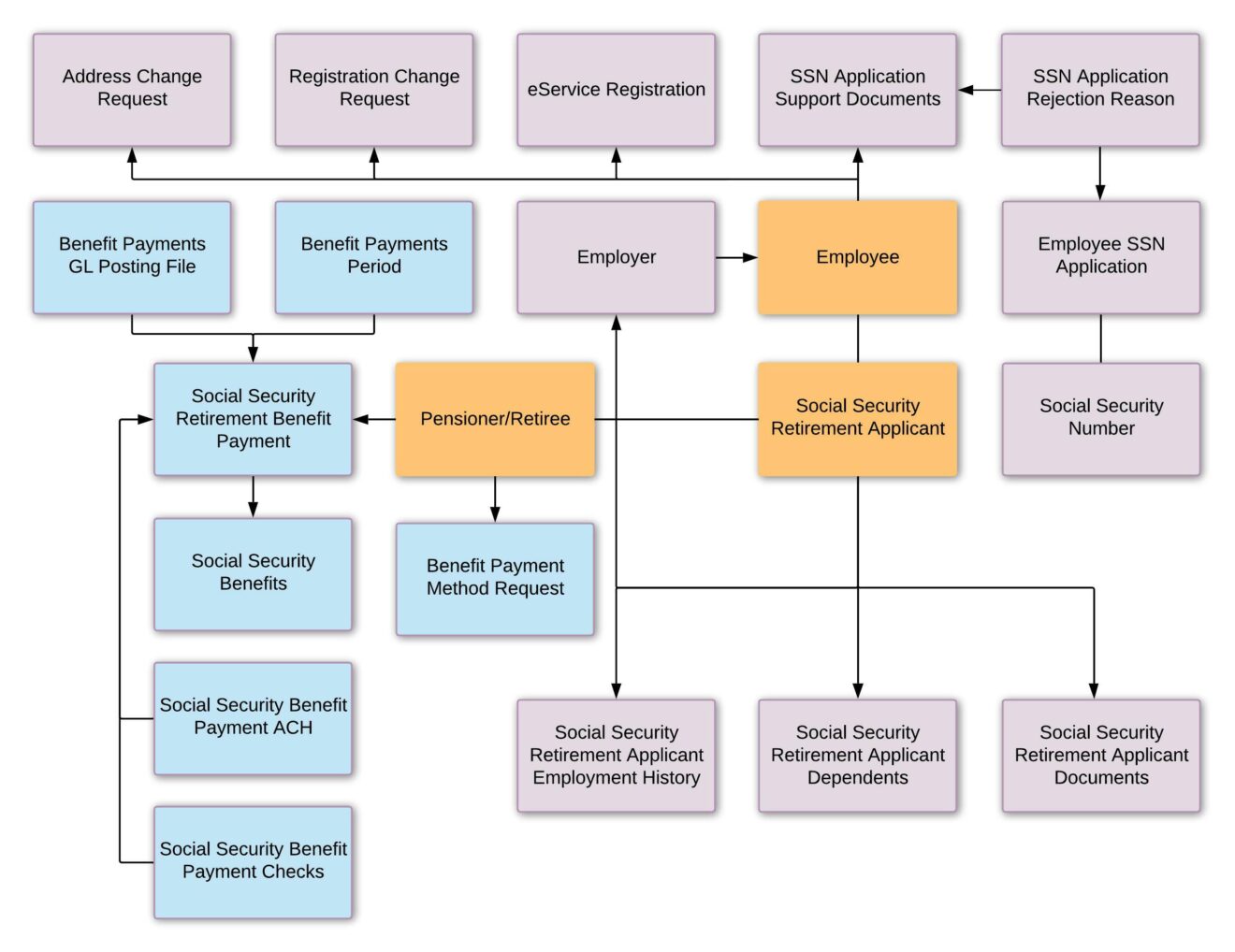 Interact SSAS is designed to support any type and number of Benefits that may be offered by a National Insurance or Social Security Agency in any particular country, thanks to the parameter driven policy setup that allows the user to configure the business rules as required.
In order to Process Benefit Claims, the Claimant or Beneficiary will first need to file an Application or Claim for a particular Benefit.
The above figure displays the main data elements and relationships in Interact SSAS which are involved in processing a Retirement Benefit Application or Claim.
Employees can use eServices to apply for a Social Security Number and submit changes to demographic (registration) information, including Address Changes, to ensure that all the information which the Social Security maintains on the record for them is correct.
Once the Employee has reached Pensionable or Retirement Age, they can submit an a Social Security Retirement Benefit Application or Claim, which makes them an Applicant or Claimant for Social Security Retirement Benefits. The Retirement Benefit Application or Claim will include information on the Retiree's Employment History, Contribution History and Dependents, all of it supported by relevant Supporting Documents as per the standard requirements of this particular Benefit Application.
Each Benefit Application type can have different data elements and different Supporting Document Requirements.
If the Claimant meets all the conditions stipulated in the law, then the Claim or Application will be approved and the Retiree or Pensioner will be entitled to receiving Retirement Benefits.
The frequency of payment of these Retirement Benefits will depend on the local Social Security laws and will be defined in the system's Benefit Pay Period calendar. Different Benefits can have different Payment Frequencies.
The Payment Method is also flexible and can be requested by the Claimant, typically such payments will be made via Cheque, Direct Deposit (ACH), or Cash / Cash Cards / Debit Cards.
Once Benefit Payments have been made, the GL Accounts will be updated, the Payment History will be updated for the Beneficiary and all records will show when, how and how much was paid for which Claim of which Beneficiary.
The Claimant or Pensioner will be able to see the Status of their Retirement Benefit Application online and once payments are being received, they will see the Benefit Pay History online also.